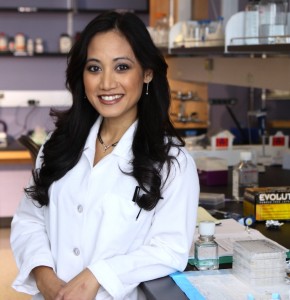 by Eun Ji Chung, Ph.D.
Ramille N. Shah has been an Assistant Professor at Northwestern University in the departments of Material Science and Engineering and Orthopaedic Surgery since 2009. Dr. Shah is a native of the Chicago area and graduated with a B.S. in Material Science and Engineering from Northwestern before moving to MIT to pursue her Ph.D.
In high school, Ramille knew her strengths were in art and math and had a desire to pursue architectural engineering in college. She first attended a local community college during freshmen year in order to save costs before transferring to Northwestern as a sophomore. Northwestern didn't have an architectural engineering major, so she declared her major as civil engineering. However, through her first research experience with Dr. Hamlin Jennings, her interest in materials was ignited. By studying highly flowable cement, she was quickly drawn to the structural, processing, and property relationships of materials and felt this field had more opportunities for her. She switched majors and took her first biomaterials class with Dr. Samuel I. Stupp during her senior year. The class immediately sparked her interest in the field and she asked for an opportunity to work in Dr. Stupp's lab for her senior thesis project. It was during this experience where her enthusiasm for biomaterials and tissue engineering research became evident. Studying biomaterials was not only exciting, but it had a direct connection to health and provided an opportunity to improve the quality of life for patients. In addition, Ramille's then boyfriend, now husband, was pursuing a career in medicine. Through both personal and educational influences, it became clear to her that developing technologies for regenerative medicine was her passion.
At MIT, Ramille studied cartilage tissue engineering with Dr. Myron Spector, first at the Brigham and Women's hospital and later at the VA Medical Center when the lab relocated. Not only did these settings provide an ideal environment for collaborations between medical and research scientists, but it also provided a great motivation for her research because patients who may one day benefit from the type of research she was pursuing were also present. At the same time, back in Chicago, her boyfriend's medical interests were also in orthopaedics (which would eventually lead to collaborative projects together). As both interests converged and Ramille finished graduate school, she decided to return back to Chicago for both professional and personal reasons. There was an opportunity to continue research in orthopaedic tissue engineering with her former advisor Sam Stupp, and she also wanted to be in the same location as her boyfriend to continue to develop their relationship.
Although unsure of whether academia or industry would be her career path, she knew the post-doc experience in the Stupp group would be ideal. During her time in Boston, the Stupp group had developed a research presence in the field of bionanotechnology, especially regarding the development of self-assembling peptide amphiphiles for applications in regenerative medicine. This was a research area in which Ramille wanted to expand her knowledge and skill set. After a year and half as a post-doc, Dr. Stupp promoted Ramille to a research assistant professor position in his laboratory, and also appointed her as the assistant director for research at IBNAM (Institute for BioNanotechnology in Medicine), where he is still currently the director. In these new roles, Ramille took on more administrative responsibilities and acted as a liason between scientists and administrators, making decisions on various aspects such as space allocation, equipment purchasing, and staff hiring. She also played a significant role in preparing applications for grant submissions.
Dr. Stupp gave Ramille many opportunities to expand her network and develop her leadership skills. For instance, not only was she able to attend conferences and meetings to present her own research, but she also gave talks on behalf of Dr. Stupp, presenting the group's research as well.  This ultimately became great practice for giving more comprehensive talks, and exposed her to many different areas in regenerative medicine. In addition, these experiences allowed her to gain a sense of confidence in herself that contributed to her  decision to pursue a career in academia.
Six months later, with significant publications under her belt, an opportunity arose to attend Rice University's workshop about negotiating a faculty position. Fortuitously, the workshop was led by committee members who were looking to hire a faculty member within the field of tissue engineering. Ramille applied for the position and was invited for an interview that eventually led to a job offer. In the mean time, Ramille applied for the NIH Pathway to Independence grant. Although not granted, her application fell into the hands of a reviewer from John's Hopkins University where they were looking to hire a new faculty member in the Biomedical Engineering department, and another interview resulted.
With momentum and timing on her side, but accepting the reality that her life was more than just herself (she was soon to be married) and that Chicago would be the ideal location, she sought out the Chair of the Material Science and Engineering department at Northwestern and presented her case for a position. The Chair responded positively, and an official interview and negotiations resulted in the faculty position she holds today.
Ramille attributes her success to always taking advantage of important opportunities and making the most out of experiences. She believes in making your own luck by proactively seeking opportunities and knowing what you are worth. Especially "for women researchers, developing a sense of what you are worth and asking for what you deserve would help females move up into higher positions," she says. Instead of waiting for opportunities to be offered to us, Ramille encourages everyone to seek out opportunities to be had.
She also stresses the importance of networking and collaborating with many people. In addition to being a new faculty member, Ramille is also a new mom with a 5-month old baby girl. These combined new roles have been extremely rewarding and pivotal, but at the same time, test her time-management skills. Although she could have waited to start a family until after receiving tenure, Ramille did not want to compromise a smooth pregnancy or risk potential complications. In the end, she counts this as the most satisfying decision of her life, and speaking to many others who have experienced it beforehand helped make the decision clear. Although her to-do list includes researching neighborhoods with good school systems as well as applying for grant funding for supporting her group's research – which all at once can be overwhelming – Ramille gets through this busy time by disciplining herself to take care of urgent matters well while making sure she doesn't miss out on her constantly changing daughter. In addition, she realizes that being a good delegator and giving up control in various areas is necessary.
Ramille feels lucky to have a supportive work environment and talented research group that allows her to be creative in science while giving her the flexibility needed during this time of transition. Looking onward professionally, she strives to attain tenure and become a scientist respected in the field. She also looks forward to the future discoveries and technological developments made in her lab that can eventually lead to clinical applications. On a more personal level, she wishes her family to be healthy and happy, and is looking forward to reaching that state of equilibrium where she can have time to take a breath and enjoy the simple things in life.
Article and nomination by Eunji Chung-Yoo:
"I recently graduated from Northwestern and am currently a post-doc in Ramille's lab. Part of my decision in coming to a smaller lab was because I also wanted to understand, learn, and prepare for how a female assistant professor balances the critical and urgent nature of both professional and personal life. I feel fortunate to have Ramille as my PI and friend because not only does she give me the freedom to be creative scientifically, but she is open and transparent about the busyness in this chapter of her life. With pursuing academia as part of my future ambition, my month in the lab has already proved to provide much insight into managing professional and personal life well. Like Ramille mentioned, learning and talking to others who have gone before you may just be what is needed to prepare you for your next big step."
Know a scientist you think should be featured in an upcoming "Scientist of the Month" article?  Send nominations to communications@awis-chicago.org. Your nominee does not need to be an AWIS member or a woman, but should promote the advancement of women in science, technology, mathematics and engineering.
Upcoming Chicago Events
SAVE THE DATE FOR AWIS-CHICAGO 40TH ANNIVERSARY PARTY!!!!
WHEN: May 31st, 2018
WHERE: ARGONNE NATIONAL LABORATORY
(Stay tuned for more information!!)
CPS Annual Science Fair
Help AWIS Chicago give a Special Award at the CPS Annual Science Fair!
See "Home" and "Community" pages for more more details and registration.
Chicago Women in STEM and Academia event at Northwestern.
This event is for everyone, students, postdocs, staff and faculty from Northwestern and other institutions whatever your gender identity is!
See "Home" and "Events" pages for more more details and registration.
What's New
AWIS Chicago Programs