By Eun Ji Chung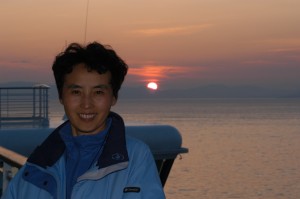 Dr. Sharon Feng is the Executive Director of the Institute for Molecular Engineering (IME), the first and new engineering program at the University of Chicago which was established in 2011 (ime.uchicago.edu). In her current position, Dr. Feng serves a key leadership role in directing financial, operational, and management functions as well as acting as a liaison between the Institute and its partners in industry. Dr. Feng received her B.S./M.S. from Nanjing University in coordination chemistry, an M.S. from the University of California, Davis in organometallic chemistry, and her Ph.D. in inorganic chemistry from MIT. Dr. Feng completed her postdoctoral training at the Medical University of South Carolina and joined Bayer in 1992. During her 20-year tenure, she held various positions in Asia and North America in areas regarding R&D, marketing, and operations, and prior to joining IME, Dr. Feng was the Vice President of Business Development and Innovation for Bayer Material Science LLC. Dr. Feng's research expertise lies in developing novel materials for coatings and adhesives applications.
In addition to her scientific and career accomplishments, Dr. Feng is a native of China and grew up during the Cultural Revolution. After high school, during a time when colleges were closed by the government, Dr. Feng was transplanted to the farmlands to work as a watermelon farmer. When the Cultural Revolution ended two years later, Dr. Feng, together with tens of thousands of high school graduates that had accumulated over the ten year period of the Cultural Revolution, took the college entrance exams. Dr. Feng was selected to major in chemistry which started her scientific trajectory. During college, Dr. Feng met her husband, who is currently a professor in paleontology at the University of Chicago, and they are parents to two daughters. Dr. Feng continues to draw motivation and inspiration from her experiences in her teens, and her story is one of perseverance and adaptability.
EJC: Were you interested in science before getting assigned a major in chemistry by the government?
SF: Yes, science in general. It's not like I wasn't interested in chemistry, but very little chemistry and physics were taught in school during the Cultural Revolution. I was exposed to a lot of math so I thought I would like a major in computer science. My parents were chemical engineers however, which may be why I did so well on the entrance exams. My original passion was actually in writing and journalism, but during the time I applied to college, the writers were pressured to conform to propaganda so my parents told me that "if you want to be a writer, you would either have to lie or go to jail". So I chose science because it was "safe" and it wouldn't go against my conscience. It isn't an inspiring story, but I chose science out of necessity and through process of elimination. But I've grown to love it and I believe you can develop and cultivate passions.
EJC: How has the Cultural Revolution helped you throughout your career (as a student, young scientist in training, and later a corporate VP)?
SF: I gained resilience and the flexibility to adapt according to circumstances. Although I didn't get to proactively choose my major, I learned survival skill sets. When someone's path is very smooth, with no resistance, they do not know how to deal with difficulties. Having to figure out my own way gave me the confidence to find the solution to the problem I have. I always think on the bright side of things because those times (during the Cultural Revolution) were hard and I had gone through much worse and there aren't many circumstances that are worse than that. It helps me quite a bit to take risks because I'm much bolder and I think to myself, "what's the worst thing that can happen?"
Advice to parents: do not prevent your children from making mistakes. Rather, help your kids develop that resilience and let them pick their own decisions. They will make mistakes, but they will come out of it with more resilience and more survival skills. I do that with my own kids, let them travel all over the world on their own from a very young age. For instance, the day my daughter arrived in Peru for a month and a half to study the Amazon River, she lost her passport. But she was totally cool. She was used to dealing with the unexpected. I would encourage parents not to create an artificial vacuum where they can't make mistakes.
To young scientists: don't be afraid of risks, you could fail, but you can gain a lot of lessons from that failure that can be beneficial for your career later on. I had a lot of hardships during my career. The very first boss I worked for was extremely difficult. He was a superb scientist, but a bad manager – micromanager, didn't trust his people, took all of the credit, tried to promote himself only. But I learned from him what kind of boss I shouldn't be. In a way, he was helpful in shaping who I am today. Interestingly enough, everyone already knew who did the work even though he took the credit, so when I transferred to another office within Bayer, I had already established a reputation. These things go around. I would say, even if you are in a difficult situation, things still work out if you stay positive and resilient and deliver results.
A good lesson to scientists in industry: try to broaden your skill sets early on. If you establish yourself as an expert, you limit your options when you get to the top. I was on this R&D track because I had a Ph.D., but I was interested in the commercial space. However, I realized you can't go high in a company without commercial P&L (profit and loss) responsibilities, but I realized this when I was already a VP. So at the manager and director level, I should have managed the business side of things more, but instead I was labeled an R&D expert. I had ambivalent feelings at the time so I didn't express it clearly to the management early on. It was a gap in my experience however, and looking back, I would have broadened my base as early as possible.
EJC: Were there any professional or personal obstacles you encountered while pursuing your career as a woman in science? How did you get through it?
SF: That first boss. Third year in the company, I was pregnant so I couldn't work in the lab and instead, worked on ISO9000 certification for a plant. It encompassed a huge work load and was a significant accomplishment. When the annual performance reviews came around, however, I was told that "since you are pregnant you get an average rating rather than an exceptional one". It blew my mind, but the company lacked the support system at the time. In addition, I didn't know going straight from grad school to industry that I could negotiate for myself or ask for raises, and didn't get a raise for 5 years. In fact, I was identified as the underpaid female employee when I transferred to a different unit, and was promoted immediately. Moreover, since Bayer is a German company with a male-centric culture, women were called "doctor" only when their husband was a doctor. Therefore, my name was always written "Mrs. Sharon Feng," not "Dr. Feng." In China, gender equality is well-established and I never viewed myself as unequal until I noticed these differences in the US. There were pockets of ignorant people unlike today's managers that are more educated. And I stopped caring at one point however and ultimately decided not to let it impact my morals.
EJC: Tell me about your role at the new Institute for Molecular Engineering at the University of Chicago. What are similarities and differences? What are the goals?
SF: It's like an academic start up; Matt (Tirrell, the Director of IME) is like the CEO and I am the COO. I don't do research like before, but instead I am a part of strategic planning, resource allocation, and operations of R&D. I ensure the funding, infrastructure, policies and procedures, and people are in place to support the research. i.e. compliances are completed, operations are smooth, and adequately staffed so that faculty can do research. It is very similar to managing R&D actually, except for not taking orders from customers. I guess the "customers" here are the students, but the tasks are not that different. The skill set I honed in industry is equally valuable for the academic setting.
From the faculty's point of view, IME's goal is to set the bar for a new type of engineering research by breaking down traditional boundaries of departments to solve real problems. The administrative team's goal is to support this goal so that the Institute can operate in this fashion. In the same way, even at the administrative level, we share the attitude of having no departments (i.e. HR department, etc) and we cross-functionally work together on projects. This reflects the culture and spirit of IME which is to be flexible, nimble, and open.
EJC: How do you balance your personal life and career? What do you do to relax? What do you do on the weekends? Do you have hobbies?
SF: I've always tried to not be sucked into my work 24/7. I have a wide range of interests including food, cooking, sewing, knitting, gardening, and dancing. I also volunteer at church and in my community. I get interested in and attracted to many things, and try to be efficient on the job site and practice discipline.
EJC: In the next ten years, what do you envision for yourself? What do you want to achieve?
SF: Making IME a vibrant institute. After that, I've always wanted to be involved in humanitarian efforts in Haiti. Possibly even open up a bed and breakfast. I don't feel the need to stay in one place forever, and I plan to continue to pursue my other interests for the next chapter.
Upcoming Chicago Events
SAVE THE DATE FOR AWIS-CHICAGO 40TH ANNIVERSARY PARTY!!!!
WHEN: May 31st, 2018
WHERE: ARGONNE NATIONAL LABORATORY
(Stay tuned for more information!!)
CPS Annual Science Fair
Help AWIS Chicago give a Special Award at the CPS Annual Science Fair!
See "Home" and "Community" pages for more more details and registration.
Chicago Women in STEM and Academia event at Northwestern.
This event is for everyone, students, postdocs, staff and faculty from Northwestern and other institutions whatever your gender identity is!
See "Home" and "Events" pages for more more details and registration.
What's New
AWIS Chicago Programs