Psychologist helps NASA build teams for mission to Mars
By Kristin Claes Mathews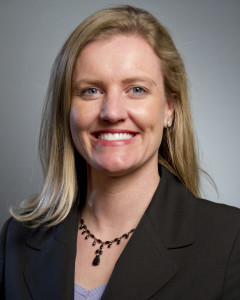 Sometimes, coworkers just seem to click. They get along, are productive and help each other out of tight spots. That might seem like serendipity, but DePaul University's Suzanne Bell knows there is a science to building a team that thrives. An industrial organizational psychologist, Suzanne's research will help NASA build the right team of astronauts to send to Mars.
Suzanne is an associate professor in DePaul's College of Science and Health and specializes in team composition. Since January 2016, she and her collaborators have been have been collecting data on teams in the Human Exploration Research Analog environment at NASA's Johnson Space Center. She analyzes how factors like team members' personality, demographics, values and background can predict the success of a team. Their research on crews in this simulation environment will help NASA predict how a team might function in isolation for long durations in space.
"I develop the science behind identifying the right mix of people for a situation," said Suzanne. "Future space travel is a really exciting application of this science."
Applying research for deep-space travel
Psychology first stood out to Suzanne when she was an undergraduate. "I liked the idea of using the scientific method to translate the way people think and behave, turning it into data and analyzing it." Business and finance were also early education interests, and she said they layered together naturally into her chosen field, which examines how people think and behave in the workplace.
"Industrial organizational psychologists are applied scientists. We balance science and practice, so everything I do needs to have a practical application to it."
Her work with NASA will help them "get the right people in the right place." She explained that her specialty, team composition, is an important consideration for optimal performance in almost any team context. Its importance is certainly heightened for deep-space travel.
"On Mars you will have the crew, mission control on a communication delay, and whatever technology support that's been created. The crew will need to live and work well together. They'll need to adapt to whatever challenges come their way" she explained.
In her previous research, Suzanne has studied how teams interact in extreme conditions like those deployed to Afghanistan, as well as in more traditional office environments.
Strong mentors
Suzanne earned her master's and Ph.D. in Industrial & Organizational Psychology from Texas A&M University and her bachelor's degrees in history and psychology from Olivet Nazarene University.
An advisor in graduate school, Dr. Winfred Arthur, Jr., was a strong mentor to Suzanne. "One of the things I really appreciated was that he not only mentored me to build my expertise in areas he researched, but he also supported me when I wanted to explore areas that were a little bit different from what he studied, or when I wanted to bring in new types of statistical analyses."
She draws on that experience when mentoring students. "I am always mindful when students are coming from different backgrounds and making sure that I get them in touch with the resources they need."
Involving girls and young women in the sciences is important to Suzanne. "The NASA project is really great because it's something tangible and very specific that little girls can hook onto and dream about. It's really a pleasure to do research like that, inspiring little girls to be astronauts or the scientists who study astronauts."
Looking forward, Suzanne plans to take a "deeper dive" into team composition and to leave a legacy with her research.
"When I look back on my career, I want to think that I've changed the way people think about a topic," she said. "I want to create theory and research that really helps shift people to think in more team-based ways when they organize work."
Focus in the lab and on the playground
Outside of the classroom and her lab, Suzanne enjoys being with her two young sons, playing outdoors and exploring the city. "I enjoy gardening and working in the yard. I sit at my desk for way too many hours, so I like to be physical when I'm outside of work."
Finding work-life balance is all about focus for Suzanne, and she shared a bit of what she has learned:
"Particularly as a woman, there's so much on our minds all the time: all the things that need to be done to run the lab, or all the things required for kids, if you have them. So my advice would be to focus on whatever you are doing, and do it fully. Don't worry about the other things until it's time to worry about them."
When she is at work, Suzanne becomes fully engrossed in teaching and research, but as soon as she arrives at home, she switches her attention completely to "the home life." "It's not always possible to compartmentalize with that, but whenever I can, I do. It helps me feel, at the end of the day, that I am able to do both well."
To learn more about Suzanne's research, visit http://depaulne.ws/BellMars.
2017 Innovator and Motivator Awards
2017 AWIS-Chicago Innovator:
Ramille Shah, Ph.D
Northwestern University
2017 AWIS-Chicago Motivator:
Jini Ramprakash, MBA, M.Sc.
Argonne National Laboratory
What's New
AWIS Chicago Programs