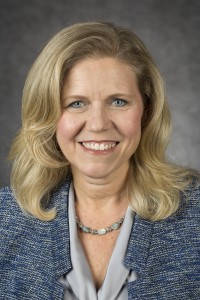 By Carol Hughes, MLSt
Neuroscientist Dorothy Kozlowski has been interested in brains since her high school days on the South Side of Chicago. For a science fair project, she used a "primitive EEG machine" to record and analyze readings from friends as they listened to music. The project showed that music her friends preferred resulted in more relaxed EEG patterns than music they didn't like. The project made it to the Illinois State Science Fair, but more importantly, sparked Dorothy's interest in neuroscience.
But it was as an undergraduate at Knox College that Dorothy caught the research bug. Initially, a biology major with plans to go into medicine, she had an opportunity to do undergraduate research examining neural development with Professor Heather Hoffman, now Chair of Psychology at Knox. That experience inspired Dorothy to enter the field of psychology and ultimately attend graduate school instead of medical school.
Curiosity about brain plasticity
A turning point in her studies came in grad school when she and others began to explore if the adult brain could change and be plastic, and if so, how. That curiosity and a genuine desire to make her research clinically relevant, directed Dorothy's research focus to traumatic brain injuries (TBI).
She specifically looked at rats and whether an overuse of their front paw, which was dysfunctional due to an injury to the brain, could make the brain injury worse. Her early findings showed such overuse could indeed adversely impact the brain injury. This influenced the idea that perhaps early rehabilitation after a brain injury or stroke would not be the best approach in patients; instead it could actually result in a worse outcome.
"I always wanted to influence the clinical field, and this research shook up the rehab field and caught the eye of neurologists and physical therapists," she said.
Research with students at DePaul University
In her lab at DePaul University, where Dorothy is a Vincent de Paul Professor of Biological Sciences, she expanded her TBI research in 2009 with funding from the Department of Defense. Her focus was on examining plasticity and rehabilitation following TBI. At the time, protocols used for TBI rehabilitation were the same as stroke and degenerative diseases, and assumed that the brain following TBI could reorganize just the same as following other insults. Her study examined the plasticity following TBI and attempted to define optimal rehab strategies by testing the efficacy of three commonly used rehabilitation techniques — reaching, exercise and constraints — in rats with controlled, induced TBI.
Testing was complex and time-consuming, including 10 treatment groups, each following different rehabilitation protocols. Eight students — six undergrads and two grads — worked on the project. The results of her research, published recently, showed that a brain with a traumatic injury was different; that the plasticity of brains suffering traumatic injury is decreased compared to what is seen following stroke. Her work also suggested that individuals with TBI might require more intense and varied rehab strategies than individuals with stroke. This has been well received by the clinical rehabilitation community.
Inspiring young researchers
"The way I look at research now has changed," said Dorothy. "I am viewing research as a teaching tool; to inspire other students to get the research bug."
Rather than focus on a research finding or to find "drug x," Dorothy is looking at how her research inspires students to be inquisitive, to ask questions.
When asked for advice for young women entering STEM fields, Dorothy offers three points. "Work hard, be creative with your ideas, and be good communicators," she said. "A lot of times when I see people struggle, it is because of gaps in communication, either written or oral."
As an undergrad, Dorothy didn't know at the time that there would be bias against women in science. And, as a grad student, her entire lab was women. She hasn't personally felt the sexism that others report in science, but her counsel for young women entering the field is "to remain confident and be a strong advocate for yourself. Over time you become the expert in your field. Don't be afraid to own that expertise."
For the record
Dorothy, a first-generation college student, has a B.A. in psychology from Knox, and an M.A. and Ph.D in psychology from the University of Texas at Austin. She also has completed postdoctoral fellowships in neurosurgery at UCLA and neurobiology at Northwestern University.
She is president of the Chicago Society for Neuroscience. Dorothy also works with the Concussion Legacy Foundation and with her students, provides concussion education programs to middle and high school students in the Chicago area.
Dorothy lives in Willow Springs with her husband and 14-year-old son and 12-year-old daughter. She enjoys spending time with family and friends, cooking and entertaining when her busy schedule permits.
In 2013, Dorothy wrote an op-ed published in the Chicago Tribune titled "Should I let my son play football?" To find out the answer and information about concussions in contact sports, you'll have to read the op-ed at http://bit.ly/Kozlowski_sonplayingfootball.
2017 Innovator and Motivator Awards
2017 AWIS-Chicago Innovator:
Ramille Shah, Ph.D
Northwestern University
2017 AWIS-Chicago Motivator:
Jini Ramprakash, MBA, M.Sc.
Argonne National Laboratory
What's New
AWIS Chicago Programs