By Katarina Kotnik Halavaty, PhD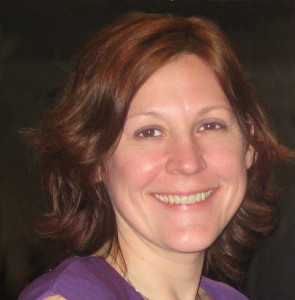 For more than a decade Kelly Fahrbach successfully paved her biomedical research career in academic settings – all went well, but something was missing. At the time, Kelly was a young research assistant professor and admitted that she needed more variety, more dynamic in her everyday schedule, which pushed her to switch her professional path. She now enjoys working as a medical writer at Stem Scientific that is part of Ashfield Healthcare Communications.
"My whole life I was interested in biology," she says. In her first year of undergraduate school she didn't know which direction in biology she wanted to go. Kelly was on her search to find the right professional path, and she therefore applied for a summer internship at Loyola University in Maywood, Illinois. As a laboratory technician she, for the first time, was exposed to virology research. "I really liked virology but I also became interested in cancer research." She wanted to learn more about cancer virology, and so she decided to go to graduate school. She joined Professor Kathleen Rundell's laboratory at Northwestern University where she had an opportunity to mesh cancer research with virology. Kelly was enjoying science, but at the same time she was also thinking about her future plans. "At first I thought I wanted to become a teacher for undergraduate students, and I therefore looked into gaining some teaching experience." During her last year of graduate training she began part-time lecturing at National-Louis University in Chicago. In 2004 Kelly graduated and obtained her Ph.D. At the time she wasn't certain whether to proceed with teaching or not. "I felt I was still more interested in hands-on science than in teaching, and I therefore decided to do a short postdoctoral training." After having several interviews for a postdoctoral position, she chose to join Professor Thomas Hope's laboratory at Northwestern University to learn about HIV. "This was the only lab that didn't do any cancer biology among all I applied for; however it offered a clinically relevant research which I found more interesting than a basic science lab." During her postdoctoral training in the Hope lab Kelly continued to teach as a part time adjunct biology instructor. After three years of lecturing she realized that she wasn't ready to go into teaching full time. She liked science, but she did not want to become a principal investigator. Kelly, again, was on her search what to do next. Around that time her mentor, Professor Thomas Hope approached her and suggested that she become a junior faculty member. "This was a chance that I did not want to miss! It opened up new opportunities for me to apply for several grants and take on a leadership role."
Kelly was promoted to a research assistant professor. "It gave me some time to enjoy research and being comfortable with having a family. Tom was very supportive and I was able to succeed as a working mom in an encouraging environment with a highest quality of research being performed", she explains. Kelly applied for several grants, gained a lot of new research experiences and became an expert in microscopy. In her new role she also took on additional responsibilities such as mentoring graduate students and postdoctoral researchers, co-implementing the lab website, and promoting methods to improve safety, internal communication, and data reporting in the laboratory. She joined the Young Investigator Editorial Review Board of AIDS Research and Human Retroviruses Journal to peer review manuscripts in the HIV/AIDS research field. Professionally Kelly was in full bloom! She published three first-author articles and co-authored a publication in peer reviewed journals. Despite her fruitful career in an academic environment four years later Kelly was reconsidering what she wanted to do in her future. She felt that she was working hard but she didn't have as much to show as she would like to have. "I wanted to see more results at the end of my day; the outcome of my daily experimental work did not satisfy me any longer," she says.
Kelly began planning to leave the bench: "I started exploring alternative Ph.D. careers." Listening to her inner voice she knew that she loved working in a team and managing projects. While networking with people from different backgrounds she came across the medical communications field. "This was a breakthrough!" she says. "I always enjoyed analyzing data, writing grants, articles, abstracts, safety protocols… but not planning or carrying out the same experiments day after day" she further explains. Kelly applied for numerous positions including writing, safety and project management, and communication jobs. In the end, she landed an associate medical writer position at Ashfield Healthcare Communications. "I am very happy that I made this change!" In her new role Kelly writes manuscripts and reviews for peer review. She develops abstracts, posters, and slide presentations for international congresses along with developing strategic documents for pharmaceutical companies. "I love the variety! I no longer need to repeat same things again and again as I had to do at the bench. Now, the pace is faster than before, and I am learning new things every day! This gives a lot of dynamic to my everyday work."
Tailoring her professional path according to her needs and wishes was a long term process. Kelly admits that transitioning from academia to industry was not easy: "Getting my foot in the door was the hardest." Working with clients, learning new terminology associated with the field, and becoming familiar with new protocols could sometimes be a bit challenging. "The Hope lab prepared me well for my next step – even for my new professional adventure," she says. "Tom gave me several opportunities to play different roles inside the lab and gain a wealth of knowledge." Kelly presented at conference calls, communicated with IRB safety and ethics approval committees and mentored graduate students, postdoctoral candidates, and technicians. Looking back, she is proud of all her accomplishments and academic achievements!
As a successful career woman, Kelly established a great balance between her work and her family life. She has two daughters who keep her busy, but also motivated. Kelly strives to spend time with her family and loves going camping and fishing with her daughters and her husband, enjoys baking, running, and has recently taken up painting and trying to learn the violin. It gives her new energy to work hard in her profession. Kelly notes, "I am incredibly fortunate! Having a supportive network at home and all of my past experiences, many of those in the Hope lab, were a major help in getting me where I am today. Now at my new job, the team I work with is fantastic! My co-workers are also very supportive." With all her positive experience Kelly would like to share her encouraging thoughts with others: "If you are not happy with what you are doing, don't ever think it is too late to make changes in your life in order to be successful and happy!"
2017 Innovator and Motivator Awards
2017 AWIS-Chicago Innovator:
Ramille Shah, Ph.D
Northwestern University
2017 AWIS-Chicago Motivator:
Jini Ramprakash, MBA, M.Sc.
Argonne National Laboratory
What's New
AWIS Chicago Programs