by Brittany M. Wilson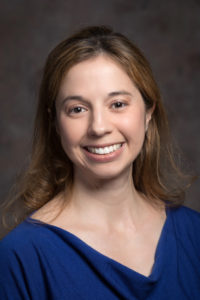 Dr. Laura Thorp, Physical Therapist turned Anatomist and now mom of four boys under the age of 5, is highly regarded as an educator by her students. In fact, she has been awarded on several occasions for Excellence in Teaching and having been one of her students, I can personally endorse her merit for these awards. I first met Dr. Thorp at Rush University Medical Center when she was an Assistant Professor of Anatomy and Cell Biology. As an aspiring professor of anatomy myself, I have always viewed Dr. Thorp as an important mentor and role model.
"Make it make sense," I remember her saying this many times as she delivered various gross anatomy or neuroanatomy lectures. I believe the phrase originated from her undergraduate anatomy professor at the University of Scranton, Dr. Gary Mattingly, who Thorp regards as an influential mentor in her pursuit to teach anatomy herself. I often find myself repeating this phrase back to students I am teaching or even to myself as I study or read scientific literature. Mentorships often seem to work this way, with idioms and ideas being passed on to mentees like genes are passed on through a family tree.
Dr. Thorp's excellence in teaching is likely related to her passion for the subject of human anatomy and openness to evolve and grow in each new experience. As of July 2015, Dr. Thorp assumed a new position as Clinical Associate Professor in the Department of Physical Therapy at the University of Illinois at Chicago (UIC). Given her initial training as a physical therapist, teaching anatomy at a physical therapy school was always a goal of hers. It took about 13 years to finally make that goal a reality but Thorp says, "I wouldn't change anything about how I went through it because I learned so much."
To say in hindsight that she's learned so much is an understatement. Dr. Thorp found out she was pregnant with triplets shortly after accepting her new position at UIC. With another little one at home already, balancing family life with work became an exciting new challenge for Thorp and her husband who is a physician in the Chicagoland area. "I find balance by knowing what's important to me," Dr. Thorp mentioned when discussing her daily schedule. She also acknowledged the importance of asking for what you need and utilizing the people and resources around you. She continued, "It's a lot. There's days where I'm very overwhelmed but I'm excited that I have four boys who will get to see a mom that loves her job."
While she was teaching at Rush University, Dr. Thorp participated in and chaired many advisory and curriculum and evaluation committees, primarily within the medical college. Her experience with implementing curriculum changes at Rush University is now invaluable as she sits on similar curriculum committees at UIC and is able to offer pragmatic insight to guide the process. Thorp is also currently participating in a teaching scholars mentoring program through UIC's Center for the Advancement of Teaching-Learning Communities where she hopes to learn how to better the courses she teaches and how to improve the assessment of teaching outcomes.
The success of her students is something Thorp highlights as one of the most rewarding aspects of teaching. She said, "Anatomy is challenging and it's not for everyone and seeing students who are working really hard who ultimately get it is really gratifying." She also acknowledges her students' respect and appreciation for cadaver dissection. While new technology seems to be complementing traditional cadaveric dissection well, empirical evidence has suggested that the experience of learning human anatomy through cadaver dissection is indispensable. In fact, bad press about body donation is a real concern for anatomists like Thorp who rely on donors to supply cadavers for the medical and professional schools in the area.
As a woman in science and now a mom of four boys, Dr. Thorp has learned to know when to ask for help. She said, "There's no way I can do this all on my own. You have a lot of people around you in science and in life who want to help and you need to seize the opportunities to take help where they present themselves or find them if they're not presenting themselves."
Before Dr. Thorp left Rush University for UIC, her doctoral advisor, Dr. Rick Sumner, who happens to be my adviser and also Chairman of the Department of Anatomy and Cell Biology at Rush, gave her a framed notebook sheet. Written on it were notes about her goals from their first meeting when she started as a student at Rush, "Teach at a physical therapy school." That was in 2002. Over a decade later that goal has come to fruition for Thorp. She said, "I was lucky, but it's not just about luck. You have to ask for what you need and you can ask for what you need without apologizing for it."
Creating the career you want for yourself will always take time, but the time will pass anyway. Passion for what you want to do, clear communication with those around you, and an openness to learn in each new experience are all part of a recipe for success that has definitely paid off for Dr. Laura Thorp.
2017 Innovator and Motivator Awards
2017 AWIS-Chicago Innovator:
Ramille Shah, Ph.D
Northwestern University
2017 AWIS-Chicago Motivator:
Jini Ramprakash, MBA, M.Sc.
Argonne National Laboratory
What's New
AWIS Chicago Programs