By Marina Pazin
 In a world where women remain underrepresented in computational math and physics fields, Dr. Kawtar Hafidi has been breaking all the rules. A physicist at Argonne National Laboratory in Illinois, she has been showing how women can thrive in fields typically dominated by men. She leads by example and promotes success among her students pursuing careers in the sciences.  These characteristics prompted her colleague, John Arrington, to nominate her for AWIS Chicago's scientist of the month.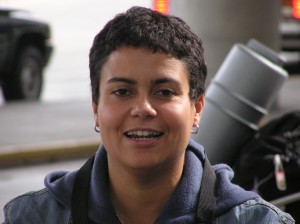 For Dr. Hafidi, the path her career would take was apparent to her during adolescence. Born in Morocco, a developing country, she quickly realized that scientific and technological advancement would be critical to drive the country forward, and such developments should come from within.  "My country needs scientists," she realized.  Drawing on her talent for solving rigorous logical problems that she developed during her high school training, Dr. Hafidi completed her bachelor degree in theoretical physics at Mohammed V. University in her native country in 1995.
One year after receiving her undergraduate degree, Kawtar earned a master's degree in nuclear physics from the prestigious Paris Sud University in Orsay, France. She was the only Moroccan and, one of the few women in her class. Despite others congratulating her on her accomplishments, Kawtar's response was "You can congratulate me when I get a PhD."  With this determination, she entered the Physics department in the French Atomic Agency at Saclay, in France. Kawtar describes maintaining her focus in a highly male-dominated field by saying, "I did not look left or right [in graduate school].  I was always looking straight." Competing as a woman in a male-dominated arena was of no concern to her, since she had been playing against boys on soccer fields since childhood. She also had a more personal desire for being successful among her male classmates. "My dad had always wanted a boy….All my life I was trying to make him proud…to show him that I can do anything a boy can do," she recalls.  She used the same competitive approach and desire to make her parents proud throughout graduate school. Unfortunately, Kawtar's father passed away one year before she received her PhD.
Since receiving her doctorate, Kawtar has been a leading researcher at Argonne National Laboratory, "asking philosophical questions, addressing technical fields in detector and software development." Expanding on her research interest of understanding the dynamics of subatomic particles (nucleons) and the forces by which they are held together, Kawtar collaborates with a team of scientists to study 3-D distributions of partons (subatomic quarks and gluons) in nucleons and nuclei, by using particle accelerators at Thomas Jefferson National Accelerator Facility in Virgina, Fermilab in Illinois, and DESY in Hamburg Germany. She is planning on sharing this knowledge with the scientists in her native country, by holding a workshop on Partons in Nucleon and Nuclei in Marrakech, this upcoming autumn. However, she would like to be remembered for more than her scientific accomplishments alone. She also hopes to encourage the next generation. "My graduate students are my children. If I do my job well, we will have more scientists, better scientists." With this outlook, Dr. Hafidi heads the Women in Science and Technology (WIST) program at Argonne, working with other men and women to hire, retain, and promote women in laboratories, particularly at upper level management. With WIST, she also helps to organize outreach programs for high school and junior high school young women, in which students are exposed to the exciting options of careers in science, technology, engineering, and mathematics. Kawtar continues to promote her mission by chairing the American Physical Society Committee on the Status of Women in Physics. For her leadership and dedication to her students, she was recently awarded the U.S. DOE Office of Science Outstanding Mentor award.
 Dr. Hafidi's career reminds us that women can thrive in areas previously set aside for men, and that promoting the advancement of the next generation of female scientists benefits everyone. For me, she is indeed a role model. 
Nomination by Josh Arrington, Argonne National Laboratory.  Article written by by AWIS Chicago Staff Writer Marina Pazin.
 *Know a scientist you think should be featured in an upcoming "Scientist of the Month" article?  Send nominations to Michelle Merrigan and Carrie Heusner.  Your nominee does not need to be an AWIS member or a woman, but should promote the advancement of women in science, technology, mathematics and engineering.
Want to keep yourself up-to-date on AWIS Chicago activities? Follow AWIS Chicago on Twitter! You can request to be added to our listserve by clicking here, and join the AWIS Chicago group on LinkedIn and Facebook by clicking the icons on the bottom right of this page.
Upcoming Chicago Events
SAVE THE DATE FOR AWIS-CHICAGO 40TH ANNIVERSARY PARTY!!!!
WHEN: May 31st, 2018
WHERE: ARGONNE NATIONAL LABORATORY
(Stay tuned for more information!!)
CPS Annual Science Fair
Help AWIS Chicago give a Special Award at the CPS Annual Science Fair!
See "Home" and "Community" pages for more more details and registration.
Chicago Women in STEM and Academia event at Northwestern.
This event is for everyone, students, postdocs, staff and faculty from Northwestern and other institutions whatever your gender identity is!
See "Home" and "Events" pages for more more details and registration.
What's New
AWIS Chicago Programs