Events
by Hannah Brechka
Dr. Victoria Prin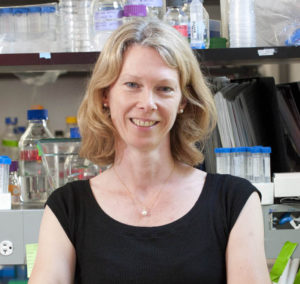 ce's résumé is stacked with her prestigious accomplishments. Dean and Director of the Office of Graduate Affairs, Professor in the Department of Organismal Biology and Anatomy at the University of Chicago, post-doctoral fellowships at Princeton University and Guy's Hospital in London. The list goes on! Dr. Prince stands out on the page as one of the most influential and powerful women in the University of Chicago's Biology community, but to her students and colleagues, she's Vicky.
In the spring of 2014, I was lucky enough to take Vicky's Vertebrate Development course, co-taught by her long-time colleague and friend Cliff Ragsdale. I had at that point only known her as Dean Prince, but she insisted that everyone refer to her by her endearing nickname, immediately putting everyone at ease around her. Vicky makes you feel like her equal; that you are colleagues, and not a subordinate. Her teaching style is casual, but she expects nothing but the best from her students.
My relationship with Vicky has developed and grown since that course. She agreed to be on my thesis committee, and has offered me opportunities to be an advocate for the Biological Sciences Division (BSD) that I am immensely grateful for. It was a pleasure to sit down with her for this article, as I got to learn about her hopes and dreams and how she found her path to where she is now when she usually spends her time aiding graduate students with their dreams. I learned that she has always loved science and that she has followed her intuitive nose and her colleagues' encouragements to her current position. Luckily for all BSD graduate students, her friend Cliff Ragsdale suggested that she apply for a position at the University of Chicago. Even though all she knew about the city was what she saw on E.R., Vicky has flourished here moving up the ranks from Assistant Professor to Committee Chair to Dean of Graduate Affairs with grace.
Vicky divvies up her time between leading a productive developmental biology lab, teaching courses and running the University of Chicago's BSD graduate program. While she finds juggling her three distinct roles difficult at times, she commits her immense intellect and seemingly endless capacity for empathy to each. These three roles keep her busy but she reveals that, "the gratifying part is being able to interact with really smart young people, and seeing them grow and do well". This sentiment embodies Vicky as a mentor, educator and leader. For her, students take priority.
Her laboratory is full of bustling students and bubbling fish. Vicky's early post-doctoral work on chicken embryos kindled her passion for embryology, but her career was launched with the risky move of using zebra fish as a model organism for understanding basic developmental processes. While now considered one of the best tools for easy access to early stage embryos, prized for their optical clarity and speed of genetic manipulations, at the time there were few researchers and even fewer tools for working on Danio rerio. Vicky's contributions to the scientific field have allowed the humble zebra fish to become one of the major players in the world of model organisms. "I'm not lying awake at night thinking about my Nobel Prize," Vicky states bluntly, "and honestly I think some people are. They're worried about their legacy; they want to get that external recognition…I'm fueled by local people in my field saying 'that was a good experiment.' I strive for that".
As Dean, Vicky has brought many changes to the science graduate students in the BSD, but one in particular has had huge benefits for her students: the myCHOICE program. MyCHOICE (CHicago Options In Career Empowerment) was developed to broaden the experiences and training science graduate students and postdocs receive at UChicago. MyCHOICE is funded through an NIH Broadening Experiences in Science Training grant that has three principal investigators in addition to Vicky and a dedicated steering committee of faculty, staff and trainees. "I just got the nicest email from a student who is about to graduate. He's got a job offer that wouldn't have been possible if he hadn't had this internship through myCHOICE," she recalled, voice gushing with enthusiasm, "Yay!" It isn't just these big programs where Vicky's impact will be felt, but through the small interactions and support she gives to each student under her care.
Vicky may never get a Nobel Prize for her scientific endeavors, but it wouldn't surprise those who know her if she did. Her unrelenting curiosity and high expectations for herself and her students means no prize could adequately capture the immense impact that Vicky has had. Her legacy is the young scientists from the University of Chicago who will go on to become leaders tomorrow because she made us her first priority. And we are all very grateful to her.
2017 Innovator and Motivator Awards
2017 AWIS-Chicago Innovator:
Ramille Shah, Ph.D
Northwestern University
2017 AWIS-Chicago Motivator:
Jini Ramprakash, MBA, M.Sc.
Argonne National Laboratory
What's New
AWIS Chicago Programs