Scientist of the Month
By Kelan Hlavaty
"Know thyself" and "don't overcommit." These maxims have empowered Jacqueline (Jackie) Jeruss to serve as both a breast cancer surgeon at Northwestern Memorial Hospital and a basic science researcher running a lab at the Robert Lurie Comprehensive Cancer Center.
Jackie knew at a young age that she would become a doctor, and upon her first experience in the OR, she knew she would devote her life to surgery. Her interest in research evolved along with her clinical training, affording her a unique position poised at the intersection of medicine and research.
Jackie completed medical school at the University of Vermont College of Medicine with a concentration in surgery. While at Northwestern Memorial Hospital for residency, she realized that she wanted to focus on breast surgical oncology and also make a contribution toward the discovery of new therapies and improvements in care for patients with cancer. This spurred her to go back to graduate school, where she obtained a Ph.D. from Northwestern examining the role of specific growth factors in breast cancer progression. A doctoral degree provided her career with balance and a more comprehensive understanding of the patients under her care. Jackie explains that "removing tumors is gratifying, but thinking about prevention and treatment gives me a renewed sense of energy about the clinical problems I face daily." The two pursuits enhance one another, and Jackie believes that it is essential for scientists and clinicians to work closely — often her clinical practice will inspire a new direction in her research, while the research seeks to bring out improvements in the clinic.
In addition to a rigorous schedule of alternating days between clinic and the lab — Monday and Thursday for clinic, Wednesday in the OR, and Tuesday and Friday in the lab — Jackie makes family a priority. Her husband, Lonnie Shea, Ph.D., is a Professor of Chemical and Biological Engineering at Northwestern University whose lab focuses on translational research at the interface of regenerative medicine and biomaterials. Jackie asserts that it is important to have a supportive person in your life who is interested in your work and helps take your work in new directions. In fact, Jackie and Lonnie collaborate on multiple projects, such as the development of a cell-based transcription factor array to understand the molecular staging of breast cancer by assessing cancer gene activity.
On balancing both a successful career and quality time with her husband and three daughters, all under the age of eight, Jackie says that "choosing a career that allows some autonomy and control over your schedule is critical for having a family." Accordingly, she is home for dinner as often as possible and limits work-related travel. For the times when a surgery or conference does encroach on family time, it helps to encourage her girls to have dynamic lives in line with their parent's, such as involvement in gymnastics, ballet, swimming, learning a foreign language, and music lessons. Ultimately, family commitments are a top priority.
Many of us, whether a scientist or not, strive for a career we feel passionate toward. Jackie stresses that it is important to allow yourself self-discovery and to approach decisions in a way that make the most sense for you personally. Successfully (and happily) balancing two jobs and a family is inspirational, yet Jackie acknowledges that it did not always come naturally. "I learned what my limits were and what responsibilities I could reasonably accept to manage time for family." Hence, she is mindful of the size of her lab, the number of ongoing projects, and whom she mentors and accepts into the lab.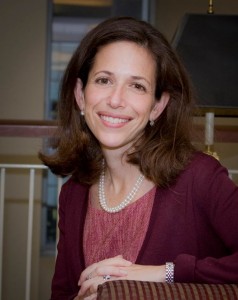 In her free time, Jackie loves to read, especially at night before bedtime with her girls. She also enjoys cooking, swimming, and traveling with her husband and three girls Sydney (8), Skyla (6), and Saroya (3).