Scientist of the Month
By Irena Antic, PhD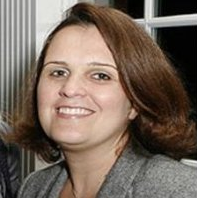 Dr. Dimitra Georganopoulou is the Innovation and Commercialization Officer at the Innovation and New Ventures Office (INVO), the President of Women in Bio (WIB) and a past board member of Association for Women in Science (AWIS)-Chicago. In her current role at INVO at Northwestern University she employs the extensive set of scientific and interpersonal skills she acquired during her training in the US and Europe to help Northwestern inventors commercialize their research. Her typical day involves meetings with inventors, strategic partners, entrepreneurs and lawyers. She strives toward "work-life integration" instead of work-life balance and achieves it by spending quality time with her family, reading for pleasure, and pursuing her outreach interests.
Dimitra's interest in science began when she was a young girl in Greece, where her father, an electrical engineer, fostered her natural inclinations towards science. By the time she entered college, she became fascinated with Physical Chemistry, in particular the field of electrochemical sensors with archaeological applications. Her graduate work took her to the UK, where she continued to learn about electrochemical sensors technologies and their various applications in biotechnology instead. While working on her PhD, Dimitra had a chance to meet with Rudolph Marcus, a Nobel Prize winner, at a small scientific conference. She credits this experience with teaching her that approaching discussions fearlessly with intelligent technical and personal perspective can be professionally rewarding.
Next, Dimitra moved to the United States to expose herself to state-of-the-art research and facilities and expand her field of expertise. She completed two postdocs, one at University of North Carolina with Prof. Royce Murray, and one at Northwestern University with Professor Chad Mirkin, though she always worked on sensors. While being very proactive, she ended up being at the right time and at the right place when Prof. Tom Meade recruited her for his burgeoning start-up Ohmx Corporation. During her years with Ohmx, Dimitra "wore many different hats" and learned about many aspects of product development, entrepreneurship and company operations. This experience taught her another important lesson: one can learn the most when you place yourself into the epicenter of a field or venture.
Over the years, Dimitra continued to develop and nurture relationships with her colleagues and became involved in AWIS, AACC (American Association of Clinical Chemists) and then WIB, which focuses on promoting careers and leadership opportunities for women in life sciences. Today she leads WIB, and gets much satisfaction from connecting professional women to each other, as well as enabling their career development. She firmly believes that "when you give, you indirectly get" and uses this guiding principle to foster mentorship and camaraderie within WIB. While with WIB, she has learned from various mentors that establishing meaningful relationships is a key to long-term success. Dimitra hopes to encourage female scientists to find a way to incorporate their passions into any work environment, cultivate their professional relationships, and believe in their place in the field of their choosing.