Scientist of the Month
by Katarina Kotnik Halavaty, PhD.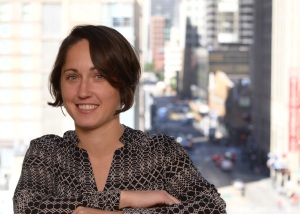 Guylaine Haché is a technical advisor at Rakoczy Molino Mazzochi Siwik LLP, a litigation and intellectual property law firm in Chicago, IL. She is pursuing her J.D. (Juris Doctor) degree at the Chicago-Kent College of Law, Illinois Institute of Technology. Prior to starting her law career, Guylaine obtained her Ph.D. in molecular biology from the University of Minnesota Twin Cities.
"I love science. In fact, I consider myself a scientist first and a patent practitioner second." For her doctoral thesis, Guylaine studied the molecular mechanism by which a family of proteins called APOBEC can mutate the HIV genome. Her work was recognized as an outstanding research by graduate students in the basic biomedical sciences, and she was awarded the Beatrice Z. Milne and Theodore Brandenburg Award. While in graduate school, she held doctoral studentships from the Natural Sciences and Engineering Research Council of Canada and Canadian Institutes of Health Research. After successfully completing her doctoral research Guylaine moved to Chicago to begin postdoctoral training at Northwestern University Feinberg School of Medicine. There, she studied the life cycle of HPV. In total, she authored six and co-authored three scientific articles in recognized peer reviewed journals during her short research career at the bench.
During her postdoctoral training, Guylaine began questioning whether laboratory research was the right career for her. She desired more scientific diversity rather than focusing on the narrow area of research in which she had specialized. It was a discussion with a postdoctoral colleague, Marta New, PhD, MBA, that led her to explore a career in patent law. At the time Marta was transitioning from her postdoctoral position to Entrepreneur in Residence at Northwestern University's Innovation and New Ventures Office. "Marta brought technology transfer and patent law to my attention," says Guylaine. After doing some research she realized that with her scientific background she would fit well in law firms specializing in patent law to protect clients' inventions. "I was especially excited about the prospect of working at the cutting-edge of research and being exposed to a wide range of technologies," she explains. After conducting a few informational interviews with patent attorneys, Guylaine decided to turn her research expertise and her desire to learn about a wide range of scientific issues into her new profession.
Guylaine left academia. "I was very motivated to make the switch to patent law, so I applied to numerous law firms across the country." In the end, Guylaine landed a job as a technical advisor with Ropes & Gray LLP in Boston, MA. In her new position at Ropes & Gray, Guylaine assisted drafted and prosecuted patent applications for the firm's clients in the United States and abroad. "Basically, this includes talking to clients about their potentially patentable inventions, conducting searches in various databases to identify what has already been invented and published, drafting and filing patent applications, and taking patent applications through the patent examination process." While at Ropes & Gray, Guylaine prosecuted patents in a wide range of technologies including molecular biology, immunology, photodynamic therapy, medical devices and diagnostics. She says that one of the most satisfying aspects of patent law is that, "It offers the opportunity to work on a wide variety of topics where one can learn about cutting-edge research before it's published."
Guylaine has since left Boston and is now back in Chicago. She now works as a technical advisor for Rakoczy Molino Mazzochi Siwik LLP, a mid-sized litigation and intellectual property law firm devoted exclusively to the pharmaceutical industry. In her current position, Guylaine provides technical litigation support to attorneys, works with experts to develop theories for use in patent litigation, as well as assists with patent counseling and due diligence analyses. She emphasizes that paying attention to details and having good analytical as well as communication skills are critical in her profession. A small mistake can have a serious consequence for a client. "I did not have to think about how a mistake might impact a client while performing bench research in academia," she admits. Another situation that she encounters in her non-academic role at times is, "It's a service industry, and clients always come first." Now these challenges are part of her every day work.
Guylaine is attending Chicago-Kent College of Law in the evening. She is on track to graduate law school in December 2016 and looks forward to taking on more responsibilities as an attorney with Rakoczy Molino Mazzochi Siwik. She is excited to have "a more active role on cases, including taking and defending depositions, participating in negotiations and mediations, and attending court hearings." While Guylaine enjoys applying her scientific background in a legal and business setting, she finds working and going to law school quite challenging at times. "It's not for everyone," she says. She recalls that at one point, she was working 8-5, attending law school by night, and getting home to study until midnight, only to get up in the morning to do it all over again. Speaking from her experiences in pursuing her goals, she believes that hard work and perseverance are the secrets to success. In the process of achieving goals she advises the following: "Just work hard and good things will happen!"