Community
by Brittany M. Wilson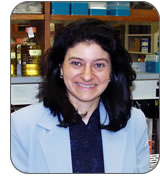 "Perseverance is something that pays back," Dr. Anna Spagnoli told me a little after noon on a Monday in Chicago. Dr. Spagnoli currently holds the positions of Professor of Pediatrics and Women's Board Chair of Pediatrics at Rush Children's Hospital at Rush University Medical Center. Dr. Spagnoli seemed particularly busy as she was preparing for a visiting professorship in China later in the week.
Dr. Spagnoli graduated Cum Laude from the University of Rome Tor Vergata School of Medicine in Italy. After completing residency training in Pediatrics in Rome, she was granted a Fulbright Scholarship to work in the Division of Pediatric Endocrinology at Stanford University in California. She began participating in pediatric research during her residency training in Italy and after her experience at Stanford, moved to the US to practice medicine and continue her research efforts.
In order to transition her medical practice to the US, Dr. Spagnoli needed to complete an additional residency training program here. After completing her second residency training she secured an assistant professorship in the Department of Pediatrics, Division of Pediatric Endocrinology, at Oregon Health and Science University in Portland. While she was still completing her second residency training program, Dr. Spagnoli began to serve as a mentor.
Dr. Spagnoli truly believes in the importance of mentoring as she acknowledges several of her mentors as having a hand in many of her successes. She said, "Mentoring is probably the most important thing for me in my career." She has mentored nearly 30 students or residents to date, many of whom have been women and many of whom now hold faculty positions both nationally and internationally. Dr. Spagnoli continued, "[Mentoring] is a combination of being inspired and being understood. I think the great mentors are the ones that can work to understand you for who you are and how different you are from them. This is very important."
When asked about the most frustrating part of her work, Dr. Spagnoli replied, "that there are only 24 hours in the day." Dr. Spagnoli currently oversees over 100 physicians, staff recruitment and education, and research operations for Rush University Children's Hospital, in addition to several other roles. When you speak with her it becomes clear that she deeply values the service she can provide to her patients and also her mentees. She has a long track record of aiding in her mentees success as her current doctoral student recently earned a highly competitive Ruth L. Kirschstein National Research Service Award through the National Institutes of Health (NIH).
Dr. Spagnoli also contributes through service on many NIH and foundation grant review study sections and she served as permanent member of the NIH Skeletal Biology Development and Disease Study Section from 2012 to 2016. She maintains a thriving research laboratory with two currently active R01 grants from the NIH. Her laboratory facilitates interdisciplinary collaboration between PhD scientists and medical doctors in order to advance the field of tissue regeneration. In fact, Dr. Spagnoli and her colleagues have published over 60 peer-reviewed manuscripts in journals such as Developmental Cell, Endocrinology, and the Journal of Bone and Mineral Research. In addition, Dr. Spagnoli delivers many teaching and research seminars to her trainees at Rush University and at academic institutions across the country and throughout the world. She also participates on committees for professional societies including the American Society of Bone and Mineral Research, among others.
"Seeing something that is beyond daily life," it is these kinds of visions, Dr. Spagnoli says, help keep her on track. She knows that science and medicine are much larger than herself. She continued, "If this is only for me this is never going to work because the difficulties you are going to find they are so many that you lose yourself if you only focus on yourself. So I always think, whenever I need to do something big, I think about who we are serving."
Dr. Spagnoli was thrilled to offer advice to women who are pursuing or who are interested in pursuing science or medicine. She believes it is important to acknowledge unconscious biases and the fact that our brains are wired to look for similarities. Dr. Spagnoli encourages us not to justify these biases but rather to go beyond them. "Some people do not understand and this can lead to anxiety. Try not to get upset, see the challenge and help them understand. Be patient and make it clear how you can contribute to a particular situation."
Dr. Anna Spagnoli's overarching goal to understand people and to serve them in any way possible has without doubt driven her success in science and medicine. She concluded with this, "Service is inspiration. I wake up and say, 'okay, who are you going to make a difference for today'." Dr. Spagnoli is proof that perseverance most definitely pays back, especially when your work includes service for others.
2017 Innovator and Motivator Awards
2017 AWIS-Chicago Innovator:
Ramille Shah, Ph.D
Northwestern University
2017 AWIS-Chicago Motivator:
Jini Ramprakash, MBA, M.Sc.
Argonne National Laboratory
What's New
AWIS Chicago Programs