Community
By Claire Stevenson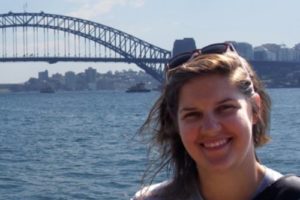 A great role model
When Kari Barlan came to The University of Chicago for her post-doctoral work, three things jumped out: she was enthusiastic, had a great sense of humor, and a powerful drive for discovery. She had a post-it on her desk that said "discovery demands risk" and she meant it. She started by taking on a project and techniques that were completely new to the lab. But she wasn't just a wide-eyed risk taker, she had impressive organizational skills and professionalism that helped ensure her success. All this combined to make her a great researcher and role model for trainees in the lab.
Before coming to The University of Chicago, Kari was no stranger to the Chicago scientific community. After her undergraduate degree at Oberlin College, Kari came to Northwestern University as a technician in Sarah Rice's lab. She continued there for her doctorate work in Vladimir Gelfand's lab before joining Sally Horne-Badovinac's lab at The University of Chicago.
Moving beyond academia
After publishing her post-doctoral work in an exciting paper that advanced the field of collective cell migration, Kari was deciding on her next career move.  Although she started preparing for the academic job market, Kari wasn't totally sold on academia. She said that she often felt like, "I was alone on my own island," working on something that few others cared about, and wondered if this was the best way for her to have an impact on the world.
During this time, her work was attracting attention, both in her field and more broadly. Her publication had piqued the interest of the show Tell Me Something I Don't Know, hosted by Stephen Dubner, best known for the book Freakonomics. This show brings in researchers to share interesting findings with the audience. Kari's research focused on collective cell migration, which is essential for many processes including embryonic development, wound healing and cancer metastasis. She was interested in what enables collectively migrating cells to coordinate their movement. Her work elucidated a new paradigm for signaling between migrating cells and received much praise in the field.  However, after a few calls with the producer, the show decided her work wasn't interesting to them. It was discouraging to hear that an audience of people yearning for groundbreaking discoveries wouldn't find her work meaningful, but this harsh realization came at an opportune time. It reinforced her feeling that she wanted a career where she felt like she could have a larger impact, and she realized that she didn't want to be alone on her academic island anymore.  She emphasized that she's not denigrating academic science, but says, I was, "struggling to find my place in the larger world."
This realization lead Kari to her current position as Senior Scientist in Functional Genomics at Abbvie, a pharmaceutical company in the northern suburbs of Chicago. She is part of a team that develops new CRISPR-based technologies that can be used to identify and develop potential drug targets. She is motivated by the potential that her platform has to help other biologists make discoveries. Every researcher wants to know the mechanism behind their disease of interest, and she feels that if she can develop a platform to help them gain that understanding, it has the potential to have a broad impact. When comparing her current position to academia she says, "in industry I can work with a lot of people and make a lot of progress quickly toward a tangible goal, even if it doesn't result in a specific drug, you are able to move things along at a good pace with tangible results."
Being a woman in science
Reflecting on how men and women are treated in the workplace, Kari has noticed some obvious gender differences over the years. One in particular is the different assumptions made about male versus female colleagues, not about one's scientific ability, but about their interests. For example, she doesn't get included in the same number of internal meetings as her male colleagues. And if someone wants an answer, she is not necessarily the first person they come to, even if she is qualified to answer and is working on something closely related. To combat this, she finds herself, "constantly trying to advocate, to ask to go to those meetings, or to set them up," if a team is being formed she'll stick up for herself to be included on it, she believes it is important to not get passed by. This is part of what makes Kari a great role model for all young scientists and professionals. Sticking up for oneself is not easy, and seeing someone have the guts to do it is inspiring.
Advice for your next career move
Kari has one big piece of advice for young scientists:  Thinking 'I'm only a fly geneticist', or 'only a developmental biologist', is very limiting. As scientists, "we develop skills that we don't take credit for," but which are highly valuable in any workplace, such as "self-motivation, organization, planning, leadership." A lot of what we do is, "translatable into lots of different jobs, not just academics, you're more than just a PhD… the key is knowing how to sell your skill set and spin what you're able to do." In terms of helping trainees decide on their next step, she said that you never know what's going to happen, but any path you take will help you develop new ways of thinking and learning, all of which have fundamental value.
Upcoming Chicago Events
SAVE THE DATE FOR AWIS-CHICAGO 40TH ANNIVERSARY PARTY!!!!
WHEN: May 31st, 2018
WHERE: ARGONNE NATIONAL LABORATORY
(Stay tuned for more information!!)
CPS Annual Science Fair
Help AWIS Chicago give a Special Award at the CPS Annual Science Fair!
See "Home" and "Community" pages for more more details and registration.
Chicago Women in STEM and Academia event at Northwestern.
This event is for everyone, students, postdocs, staff and faculty from Northwestern and other institutions whatever your gender identity is!
See "Home" and "Events" pages for more more details and registration.
What's New
AWIS Chicago Programs