Welcome to the AWIS Chicago Chapter!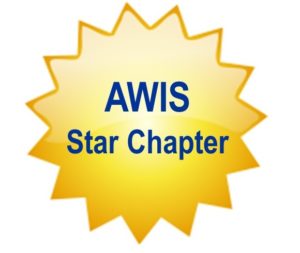 The Association for Women in Science (AWIS) is a non-profit organization dedicated to achieving equity and full participation of women in all areas of science, technology, and engineering.
The Chicago Chapter of the Association for Women in Science was founded in 1978 as a local chapter of the national organization.
2016 was an exciting year for the AWIS Chicago Chapter. We expanded our outreach programs, provided career development options and expanded our outreach collaborations with various local groups. In 2017, we will continue to offer networking events and links to volunteer opportunities. Please check out the upcoming events tab for future events!
Not an AWIS Chicago member yet? Joining is quick and easy! Sign up online at www.awis.org (be sure to select AWIS Chicago as your chapter).
Check out our Store and help support AWIS Chicago activities.
Want to keep yourself up-to-date on AWIS Chicago activities? You can join the AWIS Chicago group on LinkedIn and Facebook by clicking the icons on the bottom right of this page.
AWIS Chicago has recently been recognized as a Star chapter by AWIS National!
Click

here

to join AWIS national now.
To join AWIS, anyone who supports women in science can join the national organization at the sustaining ($250), professional ($150), or junior level ($65). When you select the Chicago chapter as your local chapter, an additional $5 will be added to the membership. Please be sure to select this so that you can take advantage of our chapter activities and discounts to events.
Benefits of becoming a National AWIS member:
Members-only career development webinars and coaching sessions developed with STEM professionals in mind.
Access to the quarterly AWIS Magazine featuring columns and articles written by scientists
Full usage of the AWIS website, including discussion features, access to job listings and nationwide member directories
Bi-monthly Washington Wire e-newsletter
But most importantly, you will be showing your commitment towards advancing women in science! Please take a moment and join today! When registering, select Illinois-Chicago as your local chapter.
Benefits of becoming an AWIS Chicago member:
Discounted registration to chapter events (approximately 1/2 the price of general registration)
Monthly AWIS Chicago emails detailing AWIS and other Chicago area science events
Members-only invitations to networking events
Broad variety of social, career development and outreach programming designed to engage the local community
Access to local leaders in STEM research, industry and alternative careers
Previous AWIS Chicago Events have included:
AWIS Chicago 7th Annual Awards Dinner – Innovator and Motivator Awards
Career Panels with networking
AWIS special awards at the Chicago Science Fair held at the Museum of Science and Industry
An evening with Rebecca Skloot (co-hosted with the University of Chicago)
Social events like Yoga at the Park
Information submitted during the registration process is confidential and will be used only by the AWIS National office to process your membership. We encourage you to also complete the other data fields. Sign up now on the AWIS web site.
For further information about membership in the National Association of Women in Science, or for information about corporate or institutional memberships, please visit the
AWIS National Web Page
What's New
AWIS Chicago Programs